SIOUX CENTER, Iowa, USA (May 11, 2023) — Link Mortuary Equipment, the leader in transport deck systems for the funeral profession, announced that it will display the first Ford E- Transit electric van featuring Link's DD2000-XLC Double-Deck Mortuary Transport System. With electric vehicle purchases on the rise among businesses nationwide, Link has positioned itself as the industry's first supplier to accommodate funeral homes and cremation facilities wishing to reduce their carbon footprint. The system also addresses staffing shortages by providing single operators with greater loading flexibility, more securement options, easier handling of larger cremation containers and much more. The industry will get its first look at the unique vehicle at Link's booth #1439 at the 2023 ICCFA Annual Convention & Exposition in Kansas City, Missouri, May 16-18, 2023.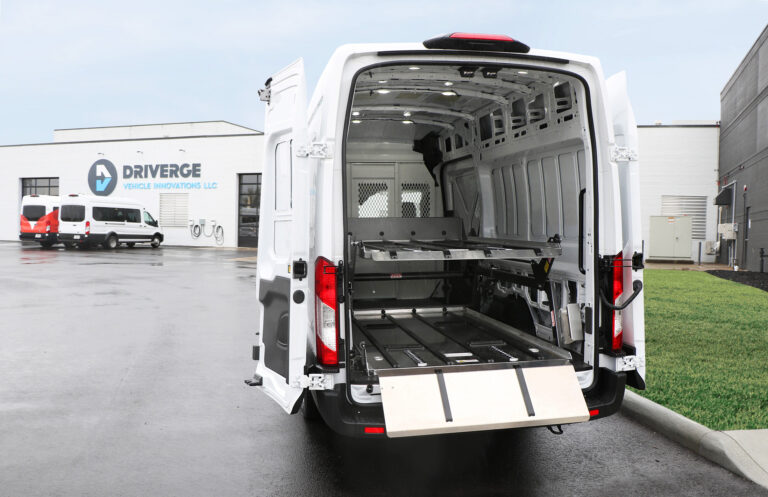 "In this time of transition to EVs, and amidst a continuing shortage of workers, the DD2000- XLC Double-Deck Mortuary Transport System promotes worker and vehicle efficiency and productivity by increasing capacity while decreasing labor and mileage costs," said Lynn Blake, national account manager for Link Mortuary Equipment. "With the DD2000-XLC, a single worker can professionally and respectfully manage and transport the remains of even the largest decedents."
To upfit the Ford E-Transit electric van with the DD2000-XLC, Link chose Driverge Vehicle Innovations, one of the country's leading builders of commercial wheelchair accessible vans, shuttles, and transporters, and experts in converting commercial trucks, vans, SUVs and sedans into work-ready vehicles. The company has locations that serve the entire continental United States, and supplied, and owns, the Ford E-Transit electric van to be displayed at ICCFA.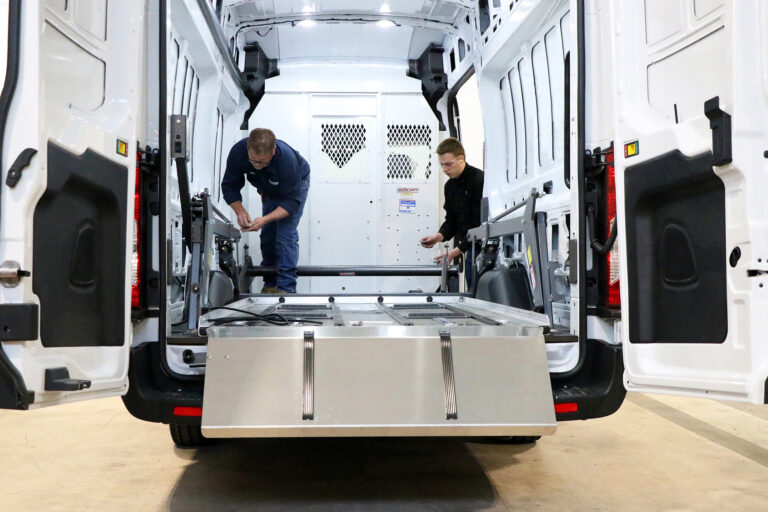 "We were excited to work with Link Mortuary Equipment on this first-of-its-kind initiative," said Craig Kemmerling, vice president of commercial sales for Driverge. "Our company is quite proficient at working with EV conversion vehicles and has many EV makes and models in our inventory. We were very impressed with the engineering and the quality of the DD2000-XLC."
Introduced in 2019, the large-capacity DD2000-XLC model has doubled the carrying capacity of the Chevy Express, Dodge Ram ProMaster, Ford Econoline, Ford Transit, Nissan NV and Mercedes-Benz Sprinter cargo vans, and now does the same for the Ford E-Transit. The system was enhanced in May of 2023, and now features additional rollers on both upper and lower decks and added bier pin plates. The two additional bier pin plates specifically address today's increased use of cremation containers, but also aid in securing air trays and caskets.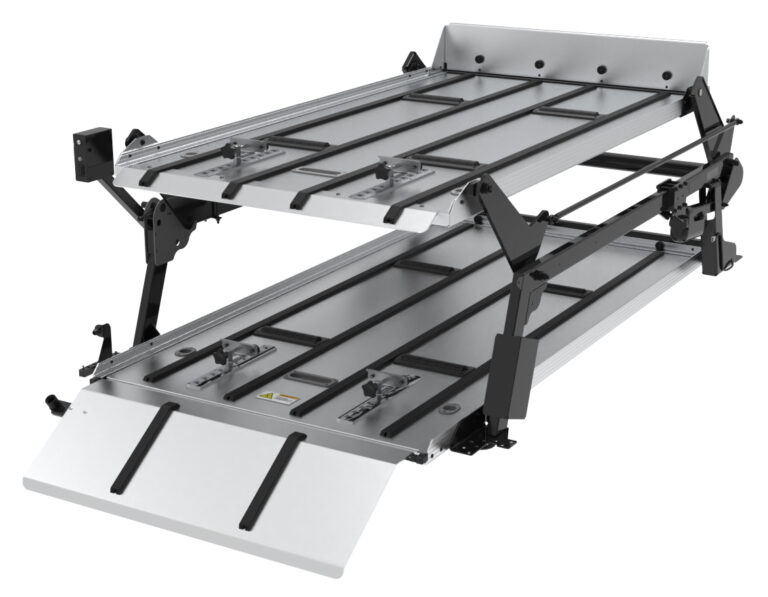 The first to introduce an electric-powered double-deck system in 1999, Link's newest DD2000- XLC model is also the industry's first to allow loading of the ever-increasing number of oversized cots. The system accommodates the loading of one standard and one oversized cot or cremation container on each of its two levels, or four standard cots, four cremation containers, two air trays or two caskets when fully loaded.
To make the DD2000-XLC even more efficient and ergonomically easier for a single user to operate, Link added rollers to both upper and lower decks. The rollers make the loading and unloading process of all remains, particularly those in cremation containers, air trays or caskets, much easier and less laborious.
The DD2000-XLC Double-Deck Mortuary Transport System 12-volt electric-powered upper deck can be raised and lowered, enabling just one person to easily load, transport and unload remains of various quantities and dimensions. The upper deck has a 600-pound load capacity, and has been engineered with a reinforced frame and more advanced lifting geometry. The system comes with an integrated safety latch that locks the upper deck in-place and prevents it from lowering, even if both its powered actuators fail or a vehicle power outage occurs.
"Link created the first engineered professional transportation solution for human remains and this first installation in an EV establishes yet another milestone for Link and the industry at large," said Blake. "We're very excited to work with Driverge on this initiative and to display this uniquely equipped and groundbreaking vehicle at our booth at the 2023 ICCFA."
For details on purchasing and installation of the enhanced DD2000-XLC Double-Deck Mortuary Transport System, please call (800) 248-3057. To view a video showing the features of the DD2000-XLC Double-Deck Mortuary Transport System, please visit https://youtu.be/F84ZG5SWf7w

About Link Mortuary Equipment
A division of Link Mfg., Ltd., Link Mortuary Equipment develops and manufactures an extensive line of transport deck systems to address the unique needs of mortuaries, funeral homes, crematoriums, cemeteries, coroners, medical examiners, morgues, donor programs, medical institutions and the U.S. military. Link is an American-based, ISO 14001: 2015 (EMS) certified company. Link is a worldwide leader in manufacturing deck systems for SUV, cargo van, minivans and coach vehicles.

About Driverge
Driverge is the country's leading builder of commercial accessible vans, shuttles, transporters, work vans and recreational vehicles. It is a Ford Qualified Vehicle Modifier (QVM), Mercedes-Benz MasterSolutions Upfitter and Ram Commercial Q-Pro supplier. With manufacturing facilities in Ohio, Kansas, South Carolina, California, Illinois, Wisconsin, Colorado and Maryland, Driverge provides vehicle conversions to numerous industries and government agencies including healthcare, wheelchair transport services, fleet management, hospitality, rideshare and other vocational markets. For more information, visit https://www.driverge.com/

Link is a registered trademark of Link Mfg., Ltd.
MasterSolutions is a registered trademark of Mercedes-Benz
Names of original equipment manufacturers may be trademarks of their respective organizations. References to models and product designations are for reference purposes only. Neither Link Mfg., Ltd. nor its products are sponsored or endorsed by the referenced original equipment manufacturers, and there is nothing else in the use of the designation that should lead a reader to believe that there is an association between Link Mfg., Ltd. and these organizations.