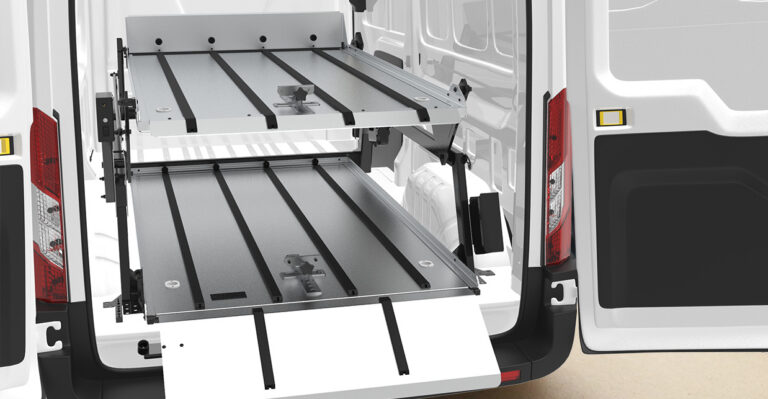 SIOUX CENTER, Iowa, USA (August 27, 2019) — Link Mortuary Equipment, the leader in transport deck systems for the funeral profession, today introduced its new DD2000-XLC Double-Deck System. The newest in Link's long line of innovative transport products, the DD2000-XLC doubles the carrying capacity of the cargo vans it is designed to supplement.
A direct response to customer feedback, the DD2000-XLC is the industry's first double-deck system and the first capable of accommodating today's ubiquitous oversized cots. The system will allow loading of one standard and one oversized cot or cremation container on each of its two levels, or four standard cots, four cremation containers, two air trays or two caskets when fully loaded.

"Link's DD2000-XLC increases worker and vehicle efficiency, effectiveness and productivity by maximizing capacity while minimizing labor and mileage costs," said Lynn Blake, national account manager for Link Mortuary Equipment. "As a practical matter, end-users across the nation asked us to address their ever-increasing need to transport oversized cots."
The DD2000-XLC Double-Deck System features an electric-powered upper deck that can be raised and lowered in seconds with just the flip of a switch, allowing one person to easily load, transport and unload – with the utmost respect and care – all unassisted. The upper deck has a 600-pound load capacity, and is engineered with a reinforced frame and simplified lifting geometry. The upper deck includes an integrated safety latch that locks it in place, preventing it from lowering if both its powered actuators fail.
Loading cots, cremation containers, air trays and caskets is made easier with the system's intelligently engineered features. A rugged fold-down ramp protects the rear of the vehicle and allows easy access to the decks. Interchangeable and adjustable bier pins enable a single worker to stow, secure and manage different containment formats on both decks. The decks are also fitted with recessed, cast-aluminum cot cups that help assure container stability and peace-of-mind during transport.
"Link created the industry's first engineered professional transportation solution for human remains and over the last few years, we've been engaged in a voice-of the-customer initiative that has established the parameters for our new system design," said Blake. "The DD2000-XLCDouble-Deck System not only broadens our offering, it literally delivers what the industry has been asking for."
An engineered deck frame maintains structural integrity during all phases of loading, transport and unloading. The system's durable, but lightweight all-aluminum decks are fitted with ultra-high-molecular-weight polyethylene strips that protect their surfaces and minimize friction, allowing containers to easily glide for smooth and effortless container positioning.
The DD2000-XLC Double-Deck System is purpose-designed and helps users meet and maintain the highest standards of professionalism and integrity while carrying out their duties. The system is designed to fit today's most popular cargo van makes and models, including: Chevy Express, Dodge ProMaster, Ford Econoline, Ford Transit, Nissan NV and Mercedes-Benz Sprinter.
The DD2000-XLC weighs a mere 750 pounds and fits vehicles with a minimum wheelbase of 140 inches. The system is compatible with 12-volt electrical systems, and professional installation is required.
For details on purchasing and installation of the new DD2000-XLC Double-Deck System, please call (800) 248-3057
About Link Mortuary Equipment
A division of Link MFG., Ltd., Link Mortuary Equipment develops and manufactures an extensive line of transport deck systems to address the unique needs of mortuaries, funeral homes, crematoriums, cemeteries, coroners, medical examiners, morgues, donor programs, medical institutions and the U.S. military. Link is a American-based, ISO 14001: 2015 (EMS) certified company. Link is a worldwide leader in manufacturing transport deck systems for SUV, vans and coach vehicles.
Link is a registered trademark of Link Mfg., Ltd.