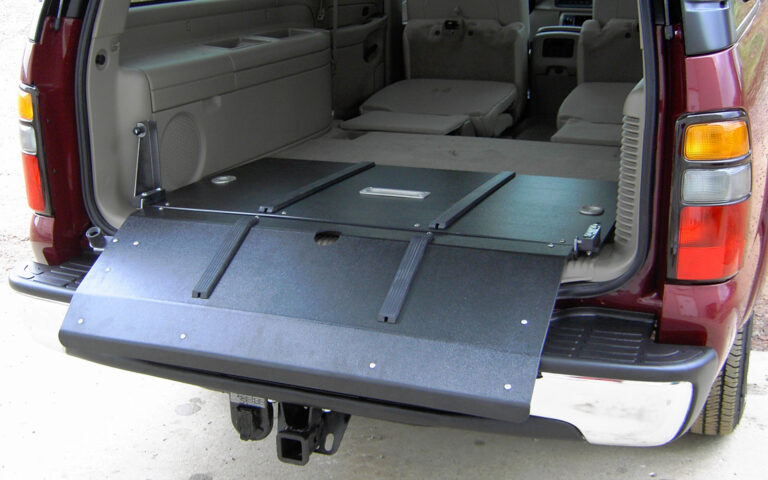 SIOUX CENTER, Iowa, USA (December 10, 2014) — Link Mortuary Equipment, the leader in transport deck systems for the funeral profession, introduces the SR-75 mini-deck system. The SR75 works seamlessly with the redesigned 2015 Chevy Suburban. The SR-75 utilizes the Suburban's new cargo cover fasteners for quick installation with no drilling required. The fold-flat rear seating of the 2015 Chevy Suburban is the perfect compliment to the SR-75 – allowing even smoother stretcher loading and unloading.
The unique design of the SR-75 provides added professionalism and convenience. The custom-molded ramp ensures the bumper is always protected during loading and unloading, yet also easily hinges up and out of the way when the rear door is closed. The precise deck positioning allows the second row seats to be fully accessible while the system is in place. For added security, the mini-deck includes recessed cot cups to control the stretcher movement while in transit.

About Link Mortuary Equipment
A division of Link MFG., Ltd., Link Mortuary Equipment develops and manufactures an extensive line of transport deck systems to address the unique needs of mortuaries, funeral homes, crematoriums, cemeteries, coroners, medical examiners, morgues, donor programs, medical institutions and the U.S. military. Link is a American-based, ISO 14001: 2015 (EMS) certified company. Link is a worldwide leader in manufacturing transport deck systems for SUV, vans and coach vehicles.
Link is a registered trademark of Link Mfg., Ltd.