HINDLEY GREEN, England, EU (January 4, 2005) – Link Mortuary Equipment, the leader in transport deck systems for the funeral profession, introduced the DD-EX2 double deck model. The DD-EX2 is designed to replace the successful DD-EX1 model, now engineered exclusively to fit inside the Mercedes Vito and Vauxhaul Vivaro vans for Eagle Specialty Vehicles.
Link engineered the industry's first professional transport solution for human remains and was the first to introduce the concept of a double-deck system. The unique system design doubles the carrying capacity of the Mercedes Vito and Vauxhaul Vivaro vans, allowing one person to transport four cots, three cremation containers or two air trays.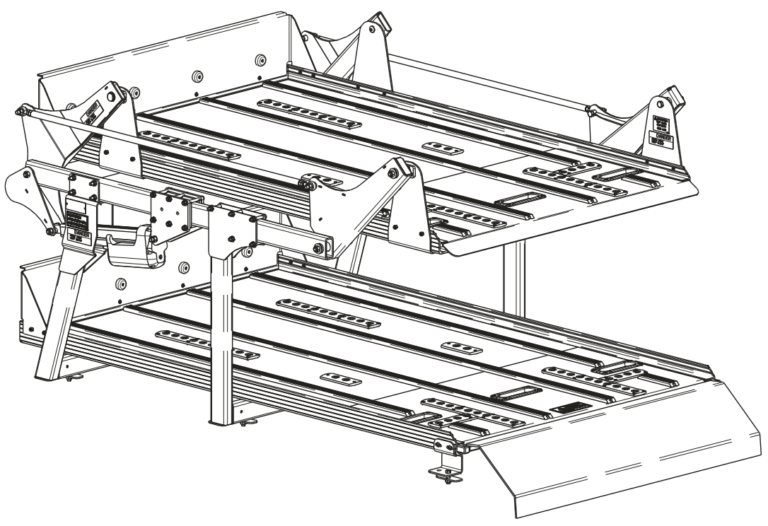 The DD-EX2 features an electric-powered, 600 pound capacity upper deck that raises and lowers, allowing a single user to quickly and easily load cots and mortuary containers. Features such as a durable, high-impact fold-down bumper ramp and polyethylene glide strips ensure that users can easily load and maneuver different mortuary containers into place on both aluminum decks. Each deck is equipped with interchangeable and adjustable bier pin systems to secure mortuary containers and prevent shifting during transport. The decks are also fitted with recessed, cast-aluminum cot cups, ensuring that cots remain stable and in place during transport.
The upper deck is engineered with a reinforced frame and simplified lifting geometry, updated from the DD-EX1's design. To ensure safety during operation, the DD-EX2 is equipped with a system lock system. This system ensures that the unit cannot be run without an authorized operator. Both decks are engineered with extruded aluminum and sealed fiberglass, protecting the interior of the vehicle and allowing for easy sanitation.
The DD-EX2 is designed with a short and long length to accommodate multiple wheelbases. The short deck weighs 536 pounds and fits in vehicles with a minimum wheelbase of 126 inches. The long deck weighs 560 pounds and fits in vehicles with a minimum wheelbase of 135 inches. The system is compatible with 12-volt electrical systems. Professional installation is required.
For details on purchasing and installation of the new DD-EX2 Double Deck System please call 01942-850200 or email eaglespeacial@aol.com.
About Link Mortuary Equipment
A division of Link MFG., Ltd., Link Mortuary Equipment develops and manufactures an extensive line of transport deck systems to address the unique needs of mortuaries, funeral homes, crematoriums, cemeteries, coroners, medical examiners, morgues, donor programs, medical institutions and the U.S. military. Link is a American-based, ISO 14001: 2015 (EMS) certified company. Link is a worldwide leader in manufacturing transport deck systems for SUV, vans and coach vehicles.
Link is a registered trademark of Link Mfg., Ltd.