SIOUX CENTER, Iowa, USA (October 10, 2004) – Link Mortuary Equipment, the leader in transport deck systems for the funeral profession, introduced the industries first casket transporter. The DD4000 is the newest double deck system in Link's long line of innovative transport products, the DD4000 doubles the carrying capacity of several makes and models of cargo vans.
The DD4000 is the industry's first double deck capable of accommodating more than two caskets in one load. The apparatus allows users to load up to four empty caskets, two on each of its levels, when fully loaded.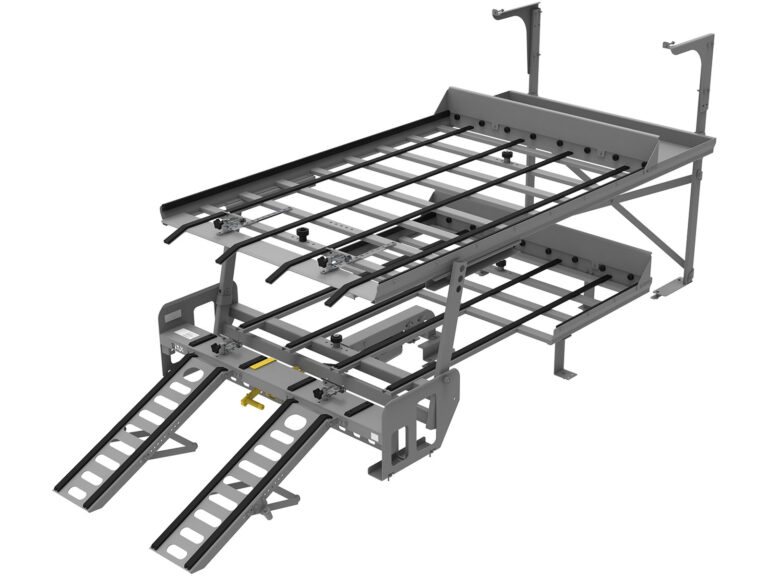 The casket transporter features an electric powered upper deck that can be tilted up and down, allowing one person to transport, load and unload caskets unassisted. The upper deck has a 600 pound capacity with an integrated safety latch that locks in place, preventing it from lowering should the actuators fail. The deck's engineered deck frame maintains structural integrity during all phases of loading, transporting and unloading.
Loading caskets is made easier with the rugged apparatus design. The DD4000 is engineered with high-impact bumper arms to protect the rear of the vehicle, as well as assist in transitioning caskets in and out of the vehicle onto casket trucks. Interchangeable and adjustable bier pins allow a single worker to secure caskets for peace of mind during transportation. Each deck is fitted with polyethylene strips to protect the frame of the casket transporter as well as to minimize friction, allowing caskets to easily glide into position.
The DD4000 weighs 725 pounds and fits in vehicles with a minimum wheelbase of 144 inches. The apparatus is compatible with 12-volt electrical systems. Professional installation is required.
For details on purchasing and installation of the new DD4000 Casket Hauler, please call (800) 248-3057.
About Link Mortuary Equipment
A division of Link MFG., Ltd., Link Mortuary Equipment develops and manufactures an extensive line of transport deck systems to address the unique needs of mortuaries, funeral homes, crematoriums, cemeteries, coroners, medical examiners, morgues, donor programs, medical institutions and the U.S. military. Link is a American-based, ISO 14001: 2015 (EMS) certified company. Link is a worldwide leader in manufacturing transport deck systems for SUV, vans and coach vehicles.