SIOUX CENTER, Iowa, USA (October 28, 2003) – Link Mortuary Equipment, the leader in transport deck systems for the funeral profession, released its new DD2000 Double Deck System. The newest deck in Link's Double Deck transport products portfolio, the DD2000 increases the carrying capacity of most cargo vans.
Link created the industry's first Double Deck system for transporting human remains. The company has continuously been at the forefront of engineered, purpose-driven, professional transportation solutions for mortuary cots and containers. The DD2000 is Link's latest innovation for cargo vans, replacing the DD200 Double Deck System.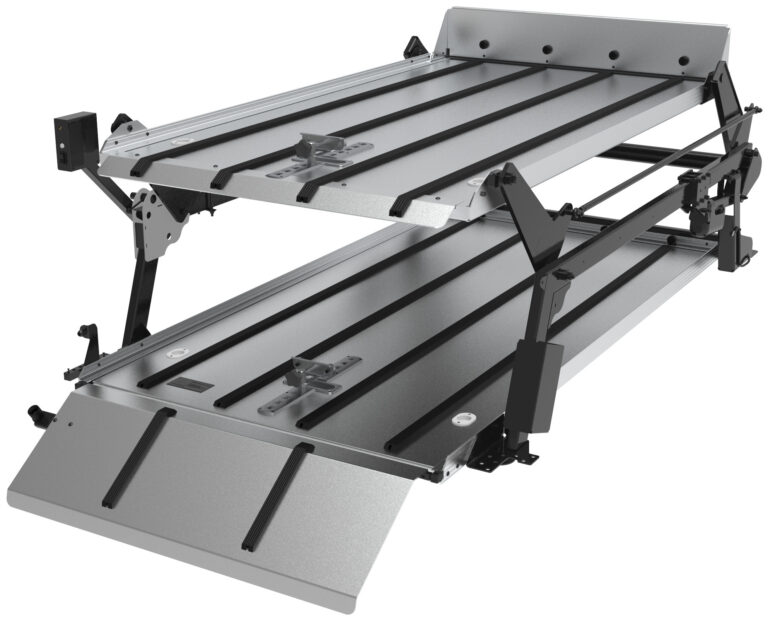 The DD2000 features added capacity and increased safety features. An electric powered upper deck that raises and lowers is the main feature of the double deck system. The improved engineered deck frame allows for an increased capacity of 600 lbs on the top deck. With the increased capacity comes a top deck latch, ensuring that the top deck and its load will remain in place should the actuators fail. Both decks are fabricated with extruded aluminum and sealed fiberglass, protecting the vehicle and allowing for easy cleanup and sanitation.
The unique design of the DD2000 doubles the capacity of most popular cargo vans and only requires one operator to load and secure cots and mortuary containers. This allows for increased worker and vehicle efficiency, with its ability to transport four cots, four cremation containers, two air trays or two caskets. A series of interchangeable and adjustable bier pins along with cot cups and polyethylene strips allow for one person to easily position and secure mortuary containers on both decks.
Loading cots and mortuary containers is made simple with the DD2000. A fold-down, high impact ramp allows for an eased transition of mortuary containers into a vehicle while also protecting the vehicle's bumper. The series of bier pins and cot cups provide cot and container stability, allowing peace of mind during transportation.
For details on purchasing and installation of the DD2000 Double Deck System, please call (800) 248-3057.
About Link Mortuary Equipment
A division of Link MFG., Ltd., Link Mortuary Equipment develops and manufactures an extensive line of transport deck systems to address the unique needs of mortuaries, funeral homes, crematoriums, cemeteries, coroners, medical examiners, morgues, donor programs, medical institutions and the U.S. military. Link is a American-based, ISO 14001: 2015 (EMS) certified company. Link is a worldwide leader in manufacturing transport deck systems for SUV, vans and coach vehicles.