HINDLEY GREEN, England, EU (October 10, 2001) – Link Mortuary Equipment, the leader in transport deck systems for the funeral profession, introduced the industry's first Double Deck System for mid-sized cargo vans. The DD-EX1 is the newest double deck system in Link's family, designed exclusively to fit inside the Vauxhall Movano van for Eagle Specialty Vehicles.
The DD-EX1 is Europe's first double deck mortuary transportation solution, capable of accommodating more than two cots per load. The system allows users to load up to four cots, two on each of its levels, when fully loaded.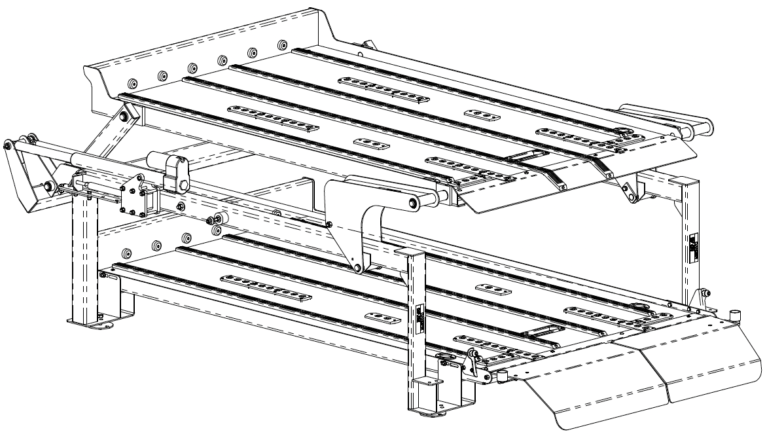 The double deck system features an electric powered upper deck that can be raised and lowered within seconds, allowing one person to transport, load and unload cots and other mortuary containers without any assistance. The upper deck has a 600 pound capacity with an integrated safety lock mechanism, preventing the upper deck from lowering were the actuators to fail. A manual lowering system is also available should the deck become stalled in the upright position.
Loading cots and various other mortuary containers is made easier with the system's built-in features. A rugged fold-down bumper ramp protects the rear of the vehicle while also providing easy loading and unloading from both decks. Four sets of interchangeable and adjustable bier pins enable a single person to stow, secure and manage different container formats on both decks. The decks are also fitted with recessed aluminum cot cups that ensure cot stability for peace of mind during transport.
An engineered deck frame maintains structural integrity during all phases of loading, transport and unloading. The system's durable and lightweight decks are equipped with polyethylene strips to protect the surface of the deck as well as to minimize friction, allowing caskets and containers to easily glide into position.
For details on purchasing and installation of the new DD-EX1, please call 01942-850200 or email eaglespecial@aol.com.
About Link Mortuary Equipment
A division of Link MFG., Ltd., Link Mortuary Equipment develops and manufactures an extensive line of transport deck systems to address the unique needs of mortuaries, funeral homes, crematoriums, cemeteries, coroners, medical examiners, morgues, donor programs, medical institutions and the U.S. military. Link is a American-based, ISO 14001: 2015 (EMS) certified company. Link is a worldwide leader in manufacturing transport deck systems for SUV, vans and coach vehicles.
Link is a registered trademark of Link Mfg., Ltd.